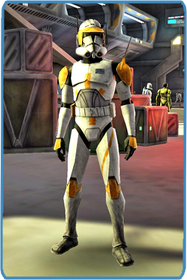 Commander Cody (CC-2224) is a clone commander serving under High Jedi General Obi-Wan Kenobi. Holding the rank of Clone Marshal Commander in the Grand Army of the Republic, Cody was placed in command of the 212th Attack Battalion, and demonstrates his combat skills throughout the Clone Wars. He is present during the introduction scenes of the game and acts as the advisor for the mini-game Republic Defender. Cody can be found in the War Room next to Mace Windu, and also on Ryloth. In the war room, Cody offers players a quest. This quest instructs players to complete a random level of Republic Defender.
Commander Cody
Edit
Exclusively at Wal-Mart. Purchase 10 dollar Station Cash cards to collect the Commander Cody set.

—Official description
Commander Cody's outfit can be obtained by purchasing ten dollar Clone Wars Adventures Station Cash cards at Wal-Mart. One item from Commander Cody's outfit is granted per card. The outfit follows the design of Cody's Phase I armor and bears several orange markings as well as an orange visor.
Commander Cody Phase II
Edit
Nothing commands more respect than Cody's upgraded Phase II gear!

—Official description
Commander Cody phase II outfit was released on 25 November 2011. It is based on Cody's phase II gear model that is seen in the television series. This outfit requires a Jedi Membership to purchase.
External links
Edit